Funded by the European Union to promote the Horizon innovation
BE-SAFE is a research project aimed at reducing the use of sleeping pills in Europe, improving patient safety, and developing applicable guidelines.
The EU project 'HORIZON-HLTH-2021-CARE-05-01: Enhancing Quality of Care and Patient Safety' (BE-SAFE) officially launched on 14 September 2022 involves five Member States of the European Union (Belgium, Germany, Greece, Spain, and Poland), as well as Switzerland and Norway. The inaugural meeting took place in Belgium. The project started back in 2022 and will run through to 2027.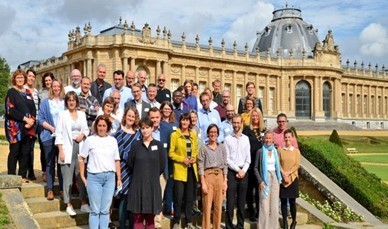 Why should we reduce the use of sleeping pills?
Sleeping pills (Benzodiazepine and other sedative hypnotics) may have adverse effects, including daytime sleepiness, memory loss, falls, and fractures, particularly in older persons (those over 65). Finding ways to reduce the use of sleeping pills is critical for improving patient safety in Europe. Previous initiatives, however, did not result in a large-scale reduction in the use of sleeping pills.
What can we do?
New prospects emerge with the launch of BE-SAFE, a research project that has received funding from the European Union's Horizon Europe research and innovation programme. The project aims to create a comprehensive picture of the use of sleeping pills in Europe and devise solutions to the overuse issue. A group of scientific experts has been formed under the project to develop recommendations and best practices for reducing the use of sleeping pills. Patients will be at the heart of the project. That is why a Patient Partnership Advisory Council consisting of patients, their family caregivers, and patient organizations is already in place to advise the experts throughout the research project.
How will the BE-SAFE project help?
BE-SAFE will first survey patients, family caregivers, and health professionals to identify enablers and/or barriers to the reduction of benzodiazepines and other sedative hypnotics. From the results of this survey, the BE-SAFE team will create strategies to reduce the use of this medication. In addition, BE-SAFE will develop country-specific guidelines and educational material for patients and their family caregivers. Finally, the team will create a toolkit to disseminate best practices, allowing other European health care systems to adopt the strategies for patients over 65.
BE-SAFE focuses on patients' needs, values, and preferences. It will most likely provide knowledge and resources to increase patient safety and reduce the use of sleeping pills in the European health care system as well as by those directly involved (patients, health professionals, health care systems, and policymakers). The National and Kapodistrian University of Athens is part of the project's consortium and will contribute to all its interrelated work packages.
Useful links:
Facebook: https://www.facebook.com/profile.php?id=100085684100200
Instagram: https://www.instagram.com/besafehorizoneu/
Linkedin: https://www.linkedin.com/company/besafe-horizon-eu
Twitter: https://twitter.com/BESAFE_HORIZON
Contact us:
Scientist responsible for the project in Greece:
Professor Dimitris Dikeos
National and Kapodistrian University of Athens, Athens, Greece
Project coordinator:
Professor Anne Spinewine
UCLouvain, Brussels, Belgium
anne.spinewine@chuuclnamur.uclouvain.be
Contact person:
Laura Fernández Maldonado
Foundation for Health and Ageing, UAB, Barcelona, Spain