Τhe international conference "Envisioning the Greek Landscape: From Thera to Climate Change" will take place at the Kostis Palamas building, main auditorium 48 Akadimias Street on 19 & 20 October (Thursday and Friday) and at Cotsen Hall, Gennadius Library on Saturday, 21 October.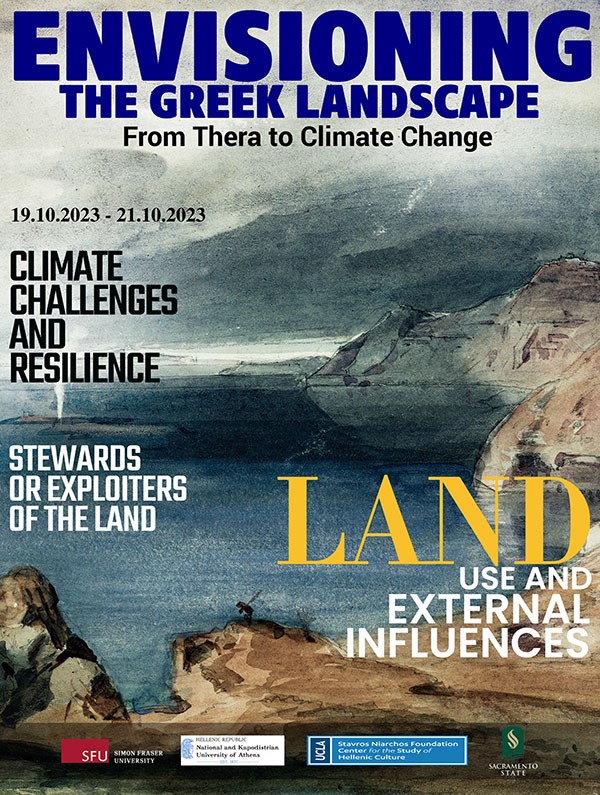 Members of the academic community of the National and Kapodistrian University of Athens (NKUA) will be participating in the international conference, which is organized by the Hellenic Studies Programs of (1) California State University, Sacramento, (2) the UCLA-University of California, Los Angeles, and 3) Simon Fraser University, Canada.
Overview: Envisioning the Greek Landscape examines the perception, appreciation, and exploitation of the Greek environment from antiquity to the present. Specifically, the conference seeks to explore how the various peoples and institutions who have overseen the land have understood its natural wealth and how they have confronted and overcome natural climatic challenges.
The three themes that we will be exploring are:
1. Climate challenges and resilience: fires, drought, poor agricultural production, and how people faced these challenges since antiquity
2. Stewards or exploiters of the land: in what way has the environment been perceived by various societies, institutions, and rulers.
3. Land use and external influences: modernized technology versus traditional forms of domestic practices.
Scheduled
Climate Change/Crisis
Events