On Thursday, June 1st, a round table on "Internationalisation of Higher Education" was organised within the framework of the postgraduate programme "Socio-scientific Issues and public understanding of Science".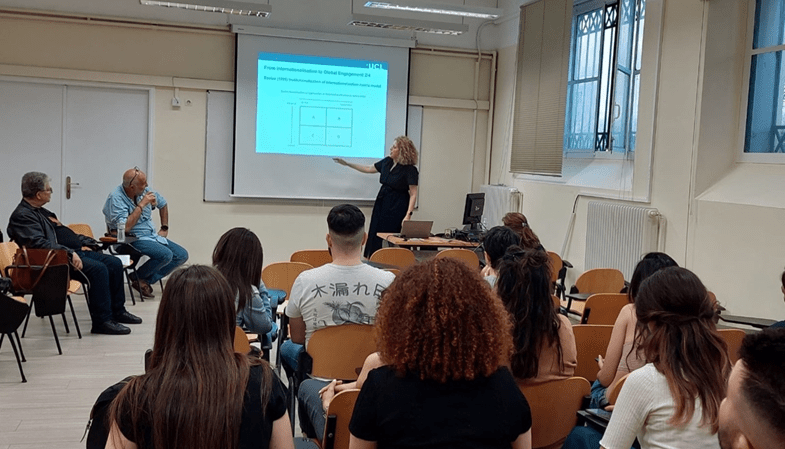 Organisers and moderators of this round table were Professor Evangelia Mavrikaki and Associate Professor Apostolia Galani.
Invited speakers were the professors:
Tatiana Fumasoli, Professor of Higher Education Studies at UCL Institute of Education (UK).
Argyris Kyridis, Professor of Sociology at Aristotle University of Thessaloniki (GR).
Kostas Skordoulis, Professor of the Department of Pedagogy and Primary Education, NKUA, Athens (GR).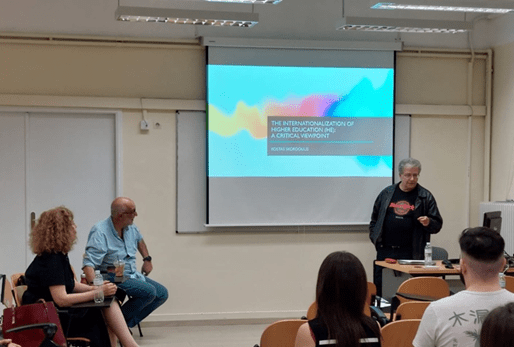 The internationalization of higher education can be considered as an interface between institutions of higher education and research from different countries to create:
a common field of knowledge transfer by facilitating the exchange of knowledge and academic expertise between institutions from different countries, thereby contributing to the global dissemination of knowledge.
a common field of educational experience transfer by helping students and scholars gain exposure to diverse educational experiences through study abroad programs, international student exchanges, or collaborative research projects that allow them to engage with different academic systems, cultures, and perspectives.
a common field of transfer of governance standards, policies, and practices in higher education, which can involve the development of common frameworks for quality assurance, accreditation processes, ethical guidelines, and mutual recognition of qualifications across international boundaries.
a common and collaborative research space where scholars from different countries can work together on shared research interests and challenges. This space may foster interdisciplinary collaboration, encourage resource pooling, and facilitate the exchange of ideas and innovations.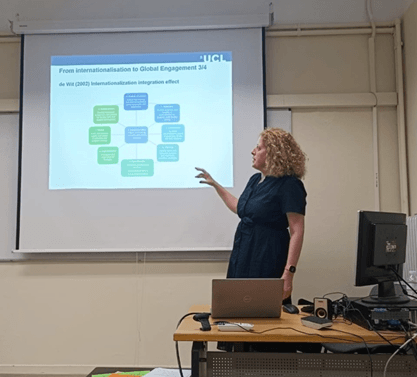 Professor Fumasoli presented the internationalisation trends in higher education through the framework applied at UCL. She talked about the Globally Engaged University and the Internationalisation practices in the UK. Professor Fumasoli mentioned that the internationalization of higher education aims to cultivate a more globally connected and cooperative academic community, enhancing the quality and relevance of education and research in an increasingly interconnected world. By using examples and case studies, she tried to make the framework understandable to the audience.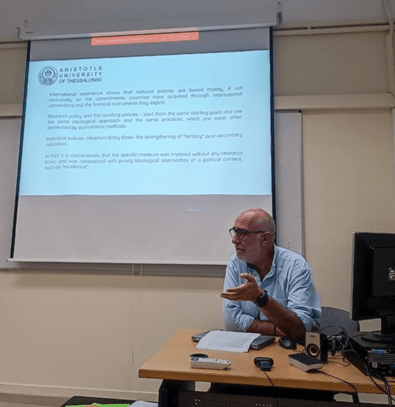 Professor Kyridis spoke about the internationalization of higher education as presented through international bodies and how it is carried out in Greek universities.
Finally, Professor Skordoulis illuminated another side of the Internationalisation of higher education through the lens of critical education. The round table concluded with a discussion between the masters' students, the audience that attended the speeches, and the speakers, during which opinions were expressed, clarifications were requested, and a fruitful dialogue developed.