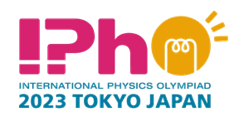 Competing at the 53rd International Physics Olympiad against over 400 of their peers across 81 countries from all continents, a Greek team of five students won two bronze medals and an honourable mention in Tokyo, Japan, from 10 to 17 July 2023.
Odysseas Kotzampasis from the 2nd High School of Xanthi and Charalampos Nikolaou from 'Anavryta' High School won the two bronze medals, while Sotirios Emirzas from 'Palladio' High School of Vari won the honourable mention. The Greek team also included Odysseas Kagaras from 'Varvakeio' High School and Konstantinos Konstantinidis from 'Mantoulides' Schools.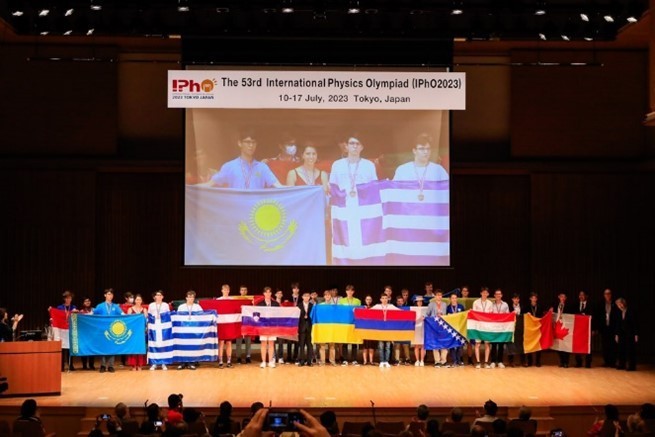 Accompanying the Greek team were Mr George Tombras, Professor at the Department of Physics of the National and Kapodistrian University of Athens (NKUA) and President of the Hellenic Physics Society for Science and Education (HPSSE), and Dr Panagiotis Tsakonas, Laboratory Teaching Staff at the Department of Informatics of the University of Piraeus and Member of HPSEE.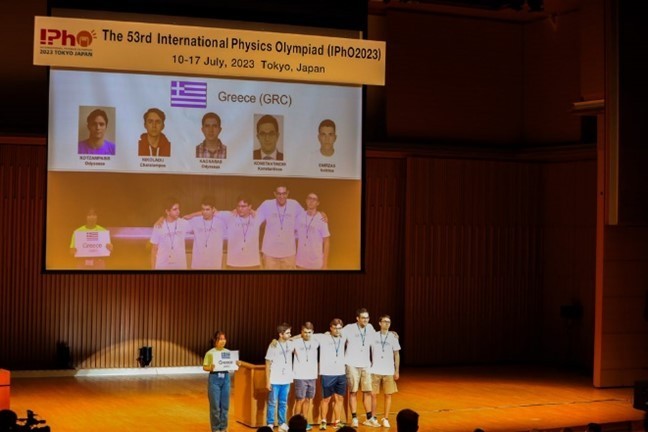 Greek students competing in International Physics Olympiads are chosen solely through the official Panhellenic Physics Competitions 'Aristotle' and follow an intensive preparation programme at the NKUA's Department of Physics focusing on theory and real laboratory exercises. The above competitions are organized yearly by the NKUA's Department of Physics and HPSEE in schools across the country, with the approval and under the auspices of the Ministry of Education. They operate on a voluntary and non-profit basis, with extensive transparency, an online publication of the problems and solutions, and adherence to the highest ethical standards in science and education. The scientific/steering committee of the Panhellenic Competition 'Aristotle' wishes to congratulate all five students and thank the NKUA Authorities for providing institutional support to the Greek delegation. Finally, a particular thank you must go out to our invaluable sponsors:

without whose financial support the Greek team's participation in the 53rd International Physics Olympiad would not have been possible.